Description
Go natural—order this t-shirt and enjoy the comfort of a truly all-natural organic cotton that is grown and harvested without any fertilizers and pesticides. The high-quality ringspun cotton yarns make sure that the fabric is extra soft and durable. If you're looking to invest in ethical clothing that is sure to last and has a low environmental impact, look no further than this organic t-shirt!
• 100% certified organic ringspun cotton
• 5.5 oz/yd² (150 g/m²)
• 1×1 rib neck
• Shoulder seam finished with self-fabric tape
• Sideseam construction
• Double-needle cover stitched seams
• Low environmental impact
Why Organic Cotton?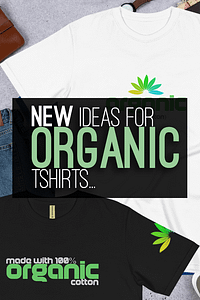 Organic cotton is produced and certified according to organic farming standards. Its production uses natural processes rather than artificial inputs to support the health of soils, ecosystems, and people. The use of toxic chemicals or GMOs (genetically modified organisms) is not permitted by important organic cotton farming. It combines tradition, innovation and science to the advantage.
Organic Cotton
Certified organic cotton provides demonstrated advantages for individuals and the planet-nothing beats it when it comes to creating sustainable allegations.
By preventing the possibly damaging impacts of poisonous pesticides, organic cotton benefits cotton manufacturers and the atmosphere in emerging nations, and the decreased price of manufacturing increases economic circumstances.
For the Environment, it's Better
Organic fibers are produced without the use of artificial fertilizers or pesticides that may be poisonous. Organic producers assist lock CO2 into the land by constructing soil fertility, helping to mitigate climate change. It also prevents the use of poisonous pesticides that are liable for poisoning animals and waterways in non-organic structures, as well as murdering an approximately 16,000 individuals annually.
Employees are Better Off
Cotton employees profit from preventing possibly poisonous pesticides by preventing the related health issues and fatalities prevalent in non-organic cotton manufacturing. Avoiding pesticides also lowers manufacturing expenses and farmers ' debts–the pesticide debt burden has led to thousands of suicides in India, the world's biggest manufacturer of cotton.
It is not GM
GM is prohibited in organic structures, whereas genetically altered an approximately important quantity of all cotton cultivated globally. GM cotton presents a future threat to animals and human health and exposes producers to excessive expenditure.
Chemicals and Limited Residues Are Restricted
GOTS guarantees that the chemicals used in textile production comply with rigorous safety and biodegradability regulations. The quantity of allergic, carcinogenic or poisonous chemical substances in final goods is limited. These substances can be breathed or passed through the body, causing allergies, skin rashes, or breathing issues.
Non-organic manufacturing, on the other hand, utilizes tens of thousands of acutely poisonous chemicals, many of which the World Health Organization (WHO) classifies as dangerous.
Improved Factory Circumstances
Poor working conditions and rights in the garments industry are common place. GOTS certified organic textiles must meet social criteria based on the International Labour Organisation (ILO) conventions. These cover minimum wages, working hours, child labour, freedom of association, discrimination, harsh or inhumane treatment and more.